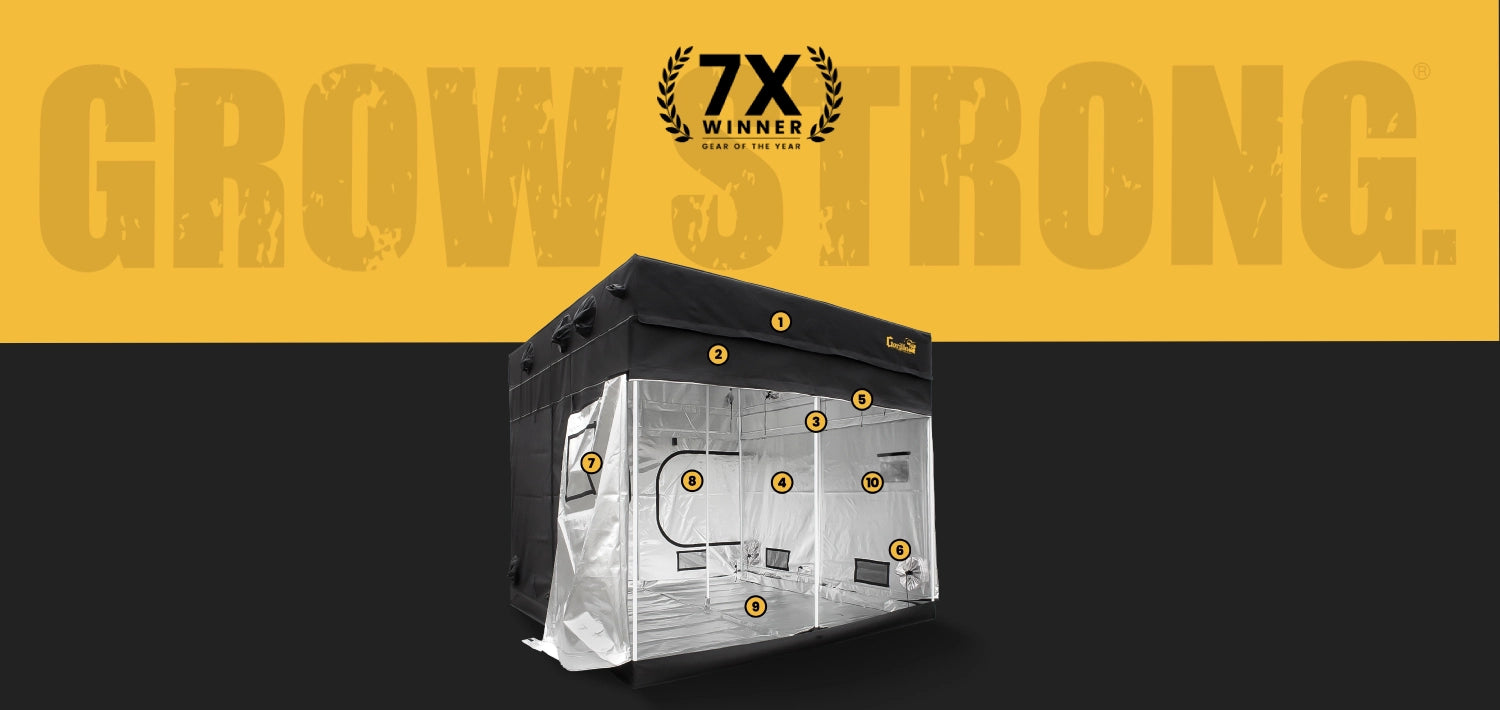 THICKEST 1680D MATERIAL
HEIGHT ADJUSTING ROOF
ALL STEEL INTERLOCKING FRAME
DIAMOND REFLECTIVE INTERIOR
INDUSTRIAL STRENGTH ZIPPERS
DOUBLE CINCHING DUCT PORTS
EZ VIEW WINDOWS
REAR ACCESS DOOR
HEAVY DUTY SPILL TRAY
INTEGRATED TOOL POUCH
Tallest Grow Tent
While the majority of grow tents on the market peak at a mere 5 or 6 feet, Gorilla Grow Tent stands head and shoulders above the rest. Starting at an impressive 6'11", our tents can soar up to 8'11" with our optional 2' extension kit. Why settle for average when you can reach new heights? With Gorilla, you truly get more grow tent from your grow tent. Elevate your cultivation game.
Size Matters
While many tent brands lean on 3D renders to suggest spaciousness in their tents, Gorilla Grow Tent sees through the illusion. The truth is simple: shorter tents mean smaller plants. Our unique height adjustability ensures you can truly maximize your grow space. This means generous room for professional-grade harvests, a protected and organized space for your gear, and an orderly grow environment. Gorilla Grow Tent offers genuine space for genuine growth.
Strongest Grow Tent
While other brands boast about pole diameter as a measure of strength, they're skirting the bigger picture. True tent strength? It's about material, thickness, quality of welding, and smart design. Pole diameter alone won't cut it. And while they're busy counting millimeters, we're focused on weight capacity. Why hasn't anyone replicated our design? Simple – real quality comes at a price. Here's the thing: it's not just about safeguarding your plants. A tent collapse can bring lights crashing down, posing a real fire risk. Unlike the competition, our tents can handle a whopping 300 POUNDS of grow equipment.
Strongest Zippers
Ever wondered why many products conveniently break down just after their warranty ends? As the competition plays the short game, we're going all in. Gorilla Grow Tents are more than just tents – they're your long-term investment. Ditch those delicate zippers that falter under pressure. Grow with Gorilla's industrial-grade zippers designed for longevity, ensuring your green sanctuary stays unbreached and your crops remain secure.
Tallest. Thickest. Strongest.
Engineered to withstand the rigors of indoor growing. Every aspect of a Gorilla Grow Tent pain stakingly designed and constructed to last long haul.
Thick 1680D Fabric
Constructed with 1680D thread density fabric (compared to 200D-600D) is up to 9x denser than other grow tents, making it Ideal for experts and perfect for beginners.
Diamond Reflective Lining
Diamond Reflection Technology, redistributes photons directly at your plants, creating less waste & giving your plants more of what they need to thrive. 
Double Cinching Duct Ports
Light-tight and convenient double cinching duct ports designed with meticulous attention to detail, our double cinching duct ports are strategically positioned precisely where you need them. These ports not only maintain the light-tight integrity of your tent but also offer exceptional convenience and flexibility for ventilation and ducting options.
EZ View WIndows
Effortless Monitoring with EZ view windows. Check in on your plants effortlessly without disturbing their environment. Our grow tent is equipped with EZ view windows, allowing you to observe the progress of your plants easily. The thick, dark velcro ensures optimal light-tightness, maintaining the desired conditions for your plants' growth.
Heavy Duty Spill Tray
Reliable protection with heavy duty spill tray. We understand the importance of a clean and well-maintained grow space. That's why our grow tent is equipped with a heavy duty spill tray, offering the most reliable protection against accidental spills. With a capacity to hold up to 5 times more volume than other brands, you can trust that your plants and environment will remain safe and secure.
Rear Access Door
Convenient rear access door for enhanced accessibility. When it comes to accessing every corner of your garden, convenience is key. Our grow tent features a rear access door, providing easy entry to even the most hard-to-reach areas of your grow tent. Say goodbye to the challenges of reaching and maintaining those back rows of plants.
Integrated Tool Pouch
Convenient organization with integrated tool pouch efficiency and organization are essential for successful gardening. Our grow tent features an integrated tool pouch, ensuring easy access to your essential tools. Whether it's your grow light glasses, trimmers, or pH kit, keep your equipment within arm's reach and maximize your productivity.
Designed in California and backed by industry-leading
customer support - a part of the Grow Strong Industries
family of brands.