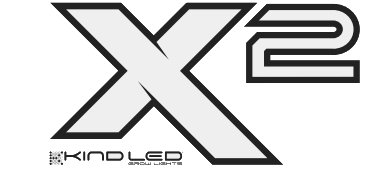 Introducing The New & Improved X² Commercial LED Grow Light
Engineered with an unwavering focus on plant-centric performance, our plant-first spectrum is a game-changer. The X² delivers a meticulously crafted spectrum under which plants will thrive, ensuring unparalleled results in both yield and quality. The X²'s build is robust, constructed with state-of-the-art components and housed in a commercial-grade aluminum frame. Our strategic partnerships with Mean Well and Osram exemplify our commitment to dependability, as we harness the best in the industry to achieve unwavering reliability. The X² stands as the workhorse of your indoor grow room, fueling maximum yields and potency while optimizing operational efficiency and minimizing downtime.
Increase Yields with Even PPFD Distribution
The unique design of the X² eliminates common shortcomings of popular commercial LED grow lights, offering an extremely even PPFD across the canopy, ensuring maximum production and overall plant health.
Engineered Reliability for Peace of Mind Growing
A failed light can lead to significant expenses. That's why we engineered the X² to be the most reliable fixture in the market. We meticulously select our partnerships, and when it comes to drivers, which account for 90% of failures, our partnership with Mean Well is pivotal. Their drivers are a premium investment, but there is simply no driver more reliable than Mean Well.
Genuine Osram Diodes
Many LED companies opt for Samsung due to brand allure and pricing, but in terms of industry pedigree, OSRAM stands unrivaled. Our partnership with OSRAM ensures access to the most reliable and robust LED chips designed specifically for the horticultural market.
Tunable Spectrum
With a 3-channel, fully customizable spectrum, the X² is capable of providing the perfect spectral output at every stage of growth, meaning faster, healthier growth, with significantly less wasted energy. Now, it includes three onboard dimmer switches for manually controlling your spectrum without the need for a controller.
Slim Profile
At only 3.8" in height with the driver, and an astonishingly slim 1.2" with the drive mounted remotely, the X² takes up minimal space so you can utilize every inch of precious growing space and maximize your potential profits.
A Spectrum for Plants, Not Humans
Full spectrum white diodes used by other LED companies were originally designed for home and office use. Kind's Targeted Full Spectrum is specifically engineered for plants to maximize harvest weight and plant quality. Our spectrum is the result of hundreds of thousands of hours of field testing in Northern California's medicinal plant industry.
Grow Beyond Efficacy
Efficacy measures a light's capacity for turning electrical energy into photons but does NOT measure the amount of photons that are usable to plants. White light diodes produce a lot of visible light, much of which is not used by the plant and is wasted as heat energy. White light diodes are cheaper to produce and measure high in efficacy, but use a spectrum that creates wasted light for plants. This is why you will always see inefficient white light grow lights boasting about efficacy, rather than talking about the spectrum. With our targeted spectrum, you get a true 2.7 umols efficacy rating with a spectrum that is fully available to the plant. KIND LED is focused on growing the biggest harvests.
Kind LED Grow Lights (4X Gear of the Year Winner) has been innovating the LED market since 2014. Kind LED's unique team of growers, engineers, and medicinal plant experts leads the innovation of their plant-first spectrum and continues to push the limits of what is possible with LED grow lights.