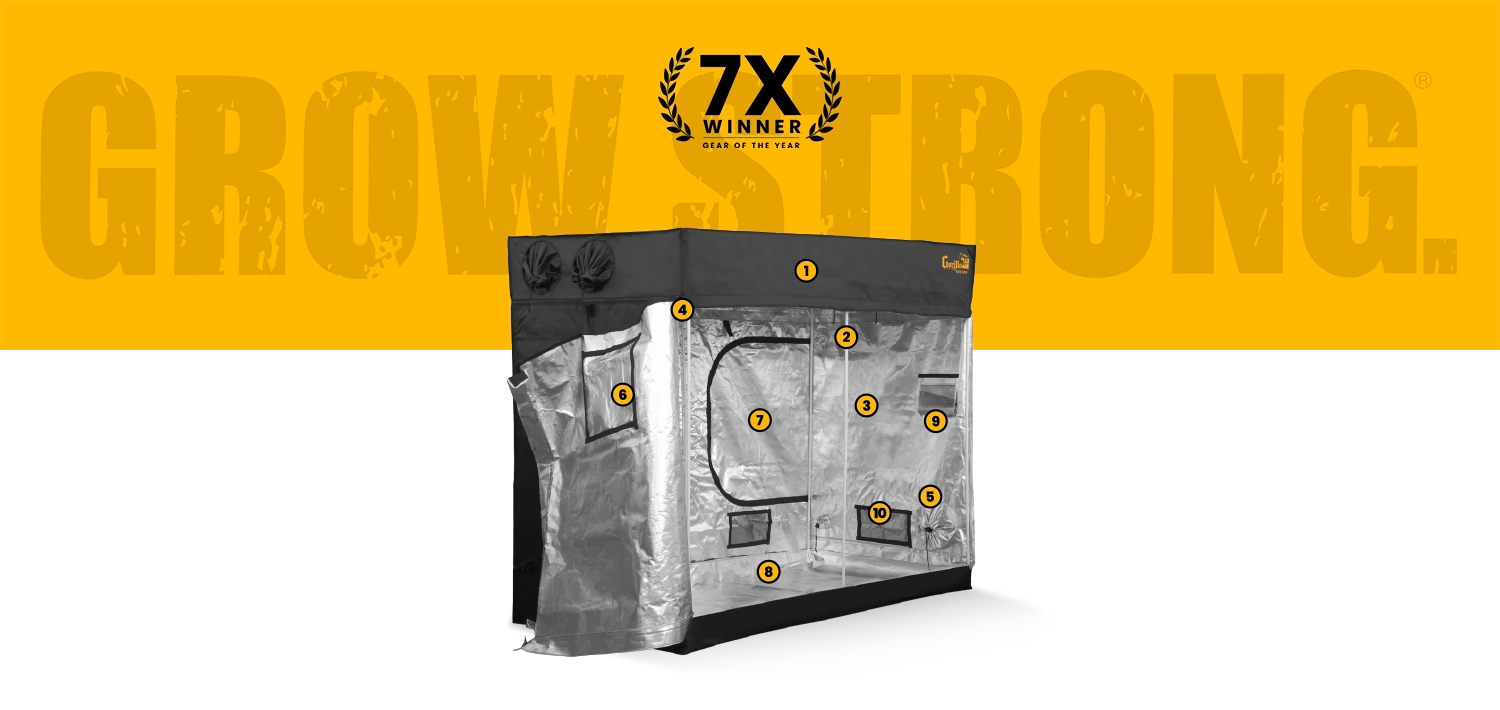 HEIGHT ADJUSTING ROOF*
ALL STEEL INTERLOCKING FRAME
DIAMOND REFLECTIVE INTERIOR
INDUSTRIAL STRENGTH ZIPPERS
DOUBLE CINCHING DUCT PORTS
EZ VIEW WINDOWS
REAR ACCESS DOOR**
HEAVY DUTY SPILL TRAY
INTEGRATED TOOL POUCH
MICRO-MESH PRE-FILTERS
Grow Higher
With the optional one foot extension kit, you will be hard pressed to out grow your Gorilla tent, ensuring your grow can get as high as possible.
All Steel Interlocking Frame
Powder coated steel poles with interlocking pins create a super strong frame that can withstand years of growing rigors.
Diamond Reflective Lining
Diamond Reflection Technology, redistributes photons directly at your plants, creating less waste & giving your plants more of what they need to thrive.
Industrial Strength Zippers
Unmatched durability with industrial strength zippers. Our grow tent features the strongest zippers in the industry, providing unparalleled durability and ensuring that your tent remains securely sealed, even during the most demanding growing conditions.
Double Cinching Ports
Light-tight and convenient double cinching duct ports designed with meticulous attention to detail, our double cinching duct ports are strategically positioned precisely where you need them. These ports not only maintain the light-tight integrity of your tent but also offer exceptional convenience and flexibility for ventilation and ducting options.
Velcro Seam Covers
Velcro zipper seam covers securely cover zippers to provide maximum light-tightness.
EZ View Windows
Effortless Monitoring with EZ view windows. Check in on your plants effortlessly without disturbing their environment. Our grow tent is equipped with EZ view windows, allowing you to observe the progress of your plants easily. The thick, dark velcro ensures optimal light-tightness, maintaining the desired conditions for your plants' growth.
Heavy Duty Spill Tray
Reliable protection with heavy duty spill tray. We understand the importance of a clean and well-maintained grow space. That's why our grow tent is equipped with a heavy duty spill tray, offering the most reliable protection against accidental spills. With a capacity to hold up to 5 times more volume than other brands, you can trust that your plants and environment will remain safe and secure.
Rear Access Door
Convenient rear access door for enhanced accessibility. When it comes to accessing every corner of your garden, convenience is key. Our grow tent features a rear access door, providing easy entry to even the most hard-to-reach areas of your grow tent. Say goodbye to the challenges of reaching and maintaining those back rows of plants.
Integrated Tool Pouch
Convenient organization with integrated tool pouch efficiency and organization are essential for successful gardening. Our grow tent features an integrated tool pouch, ensuring easy access to your essential tools. Whether it's your grow light glasses, trimmers, or pH kit, keep your equipment within arm's reach and maximize your productivity.
Designed in California and backed by industry-leading
customer support - a part of the Grow Strong Industries
family of brands.