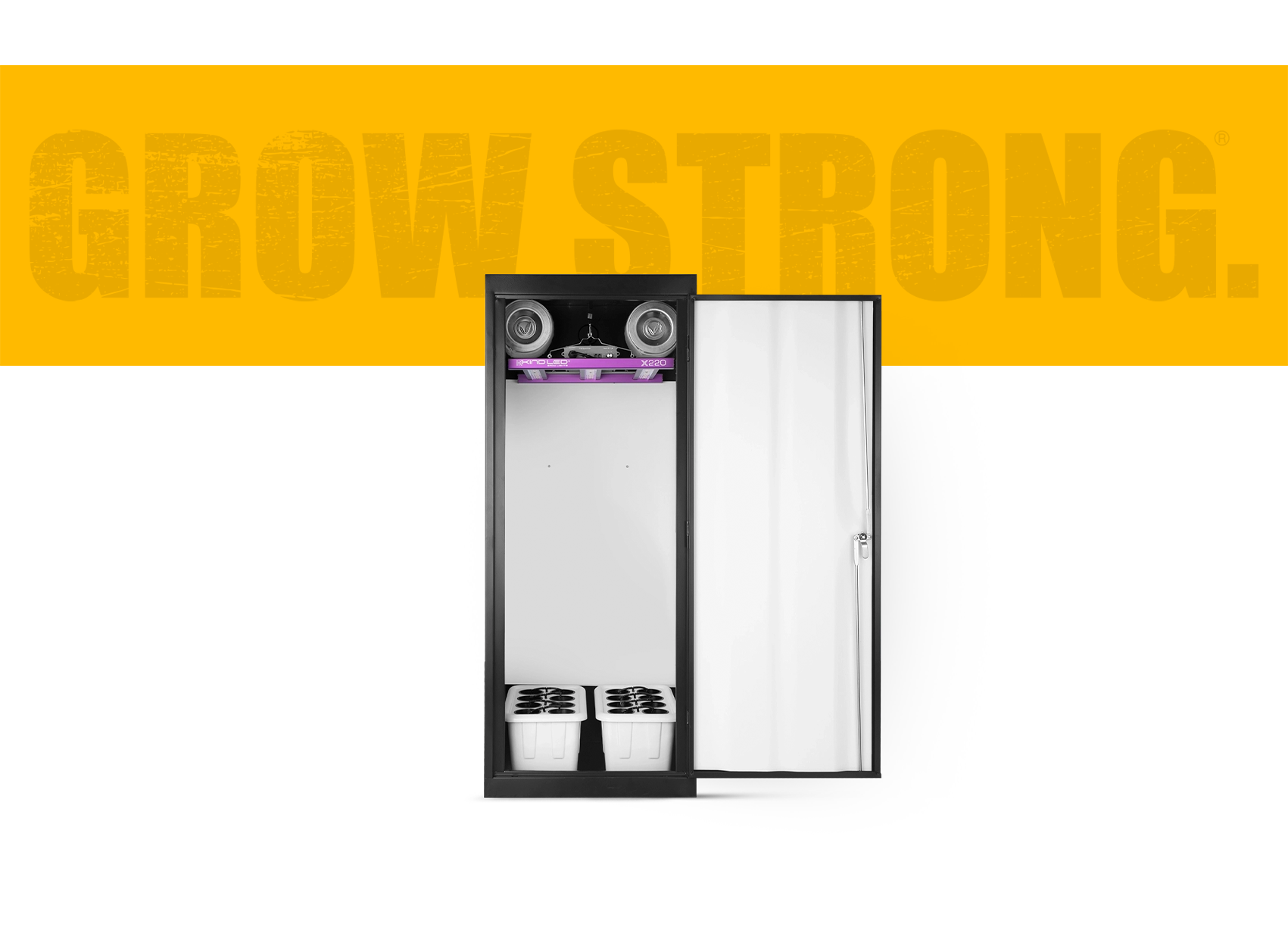 Includes the Following Components:
Kind LED Grow Light
Including The World's Best Grow Light!
• 2X
• 3.5X
• 2X Increased PPF
• 50% More Efficient
• 3.5X Improved Light Distribution
• 2X Increased Diode Lifespan
• 38% Lighter
Kind LED Grow Light
Red + IR + UV When & Where You Need It
UV and IR are essential for increasing flower development and ramping up secondary metabolite production which increases both potency and terpenes. Since this added spectrum is only needed in the late stages of flowering, we've placed it on a separately controlled channel so you can decide when you use it, eliminating wasted energy and avoiding unwanted stretching during the earlier stages of plant growth.
Targeted Full Spectrum
Targeted Full Spectrum vs Standard Full Spectrum
Full spectrum diodes used by white light LED companies were originally designed for home and office use. Kind's Targeted Full Spectrum is specifically engineered for plants to maximize harvest weight and plant quality. Our spectrum is the result of hundreds of thousands of hours of field testing in Northern California's medicinal plant industry.
Hydroponic Grow System
SuperPonics 8 Hydroponic Grow System*
SuperPonics Hydroponic Grow System technology fuses the best of hydroponics by combining automated top feeding, deep water culture, and bubble and AeroPonics.
*Available with hydroponic systems only
Ideal Interior
Maximum Interior Light Dispersion
Redirecting precious photons back to your plant canopy,
increasing side and lower budding up to 20%.
Worry Free Growing
Stealth Cabinets Are Hidden In Plain Sight
Designed for stealth, our rust proof powder coated black
painted cabinet blends into any room.
Safe and secure
Triple Locking Keyed DoorFor Maximum Security
We use the same triple locking functionality found in gun
cabinets to create the best security offered by any grow
cabinet in the industry. One lock, one spare key, and 100%
peace of mind.
Grow Strong
2X Increased Thickness "Infra-Cool" Cabinet Safe
Gorilla Grow Cabinets are not built like your typical office cabinet. With double thick walls, our Infra-Cool cabinet helps regulate the temperature for your plants, while increasing durability and security.
Odor Free
No Smell, Whisper Quiet Fans
Dual custom carbon filters provide and odor-free growing experience all while assisting in creating optimal air flow in the cabinet.
Premium Plant Nutrients
Lotus Nutrients Sample Kit
Lotus Nutrients simplifies plant nutrient mastery, enabling exceptional results in less time. Developed by experienced Northern California growers, their comprehensive 3-part nutrient system replaces complex recipes and supports plant development from seed to harvest. Suitable for all growing mediums, this all-inclusive formula delivers unparalleled outcomes in flowering and fruiting plants, making it perfect for both beginners and experienced growers.
Optimal AIr Flow
Professional Internal Circulation Fans
Well-sized and strategically positioned internal circulation fans are crucial for circulating air throughout your growing space, creating an ideal environment for plant growth. Proper airflow helps prevent mold and mildew formation and reduces the likelihood of pest infestations.
Maximum Support
Net Trellis System
Implementing a trellising system can boost your yields by up to 30%. Our net trellis system is specifically designed to work seamlessly with the tent included in your kit. Trellises provide support, separation, and guidance for your plants, ensuring equal spacing between them and promoting the development of a uniform canopy. This results in consistent light distribution and absorption for all plants, optimizing their growth potential.
Keep Perfect Conditions
Digital Thermometer / Hygrometer
This handy device gives you the ability to make certain that you are providing your plants with their ideal environment. Effectively measures indoor/outdoor temperature and indoor humidity. Stores the min/max values of your temperature and humidity. Switch between °C and °F. Clock function. 12/24 hour mode switch. Includes a waterproof temperature probe.
Precise pH
General Hydroponics pH Control Kit
Mastering pH balancing of water and nutrients is crucial for new growers, and the General Hydroponics pH Control Kit can expedite your learning process. This kit ensures that your pH remains stable and includes 8 ounces of pH Up, 8 ounces of pH Down, a 1-ounce indicator, and a vial. With this comprehensive kit, you can maintain perfect harmony in your nutrient mix, setting your plants up for optimal growth.
Reliable Power
Industrial Power Strip
Protect your home by using the proper electrical equipment for your grow kit. Inadequate electrical devices can lead to damage and loss of property, as they may cause electrical imbalances while turning your gear on and off. These imbalances can inflict lasting, cumulative harm to your valuable equipment and create a potential electrical fire. By incorporating the 10-outlet industrial power strip that comes with the Gorilla Grow Tent Kit, you ensure secure, stable, and evenly distributed power through 10 grounded outlets. Remember, improper electrical equipment has resulted in significant damage and property loss for many. Grow safe and confidently with Gorilla.
Simple Scheduling
App-Controlled Intelligent Scheduling
With the Gorilla Grow Tent Kit, you can now manage your growing system via your smartphone or tablet. Simply download the app and gain the ability to adjust and operate your grow light schedule from any location. If you opt for the hydroponics feature, you can also control the water pump timer, enabling you to establish the ideal top-feeding plan for your plants throughout their growth stages. Navigating through your grow stages to achieve a flawless harvest has never been more convenient!
Superior Safety
GFCI Shock Buster
The GFCI Shock Buster is an important safety device to have in your indoor grow tent kit as it protects you from electrical shock by shutting off the power in the event of an electrical fault. It is easy to install and works by monitoring current flow in the electrical system, quickly shutting off power if there is a sudden increase in current. Electrical equipment, such as lights, fans, and pumps, are essential for indoor plant growth but can pose a significant risk if not handled properly. Having a GFCI Shock Buster in place adds an extra layer of protection against electrical hazards and can help keep you and your plants safe.
Removable Gorilla Logo
Show It Off Or Keep It Stealth
Let everyone know you are growing strong with Gorilla, or
simply remove the custom Gorilla Grow Cabinet magnet
to keep your system stealth.
Grow Strong With A Helping Hand
Lifetime Grow Support
Every Gorilla Grow Box Kit comes with a comprehensive grow manual, 1 month warranty, and lifetime grow support, ensuring you have access to the best guidance throughout your growing process. With our Gorilla Grow Box Kits, even beginners can achieve better yields than experienced growers. Our automated and easy-to-set-up kits, coupled with industry-leading customer service, provide unparalleled support.